The Gladstone Region; a jewel in the nation's crown is Queensland's best-kept holiday secret and your new favourite destination to visit.
Ideally located 500km north of Brisbane, Gladstone is the 'engine room' of Australia which boasts major industry, but it is also a friendly country town with beautiful surroundings and unique nature-based attractions.
The regional city offers everything from stunning secluded coral cays at your doorstep, to untouched hinterland with breathtaking ranges and national parks.
 

Just one and a half hours drive to the south of Gladstone, Agnes Water and the Town of 1770, have Queensland's most northern surf beaches. These postcard perfect seaside communities are home to a bright pink amphibious craft allowing you to access and explore the National Parks, restored lighthouse and pristine waterways.
The combination of experiences including a wander through the enchanting Paperbark Forest, a dip in the ocean or stand-up paddle boarding in the picturesque calm inlets make these twin towns a must see.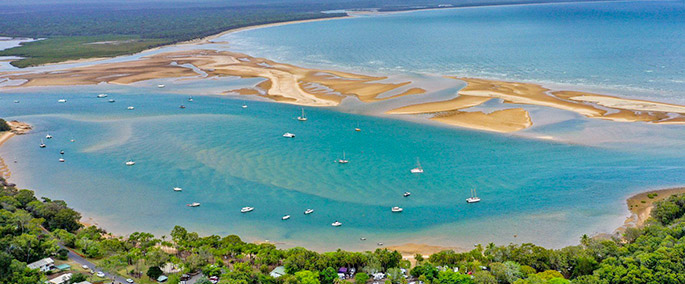 When arriving at the new world-class cruise terminal you will be welcomed by our Gladstone Region Ambassadors before being treated to a carnival-like atmosphere as the Gladstone Ports Corporation's East Shores precinct comes alive with markets, street performers and local tours.
The fabulous parklands also boast the Waterfront Café and brewery, Auckland House.
Activities
24 things to do in the Gladstone Region
If fresh prawns, scallops, oysters and reef fish take your fancy, visit the local Gladstone Fish Market for your daily seafood dose
Wine and dine with friends at one of the local cafes or restaurants in the CBD.
Take the 111 steps up to Auckland Point Lookout and gaze over the beautiful panoramic view of Gladstone's Harbour.
 Wander through the impressive Tondoon Botanic Gardens and stop in for a cuppa at the local café.
Cool off in the splash zone or relax in the parklands at East Shores Precinct.
Put your feet up, relax and enjoy a new release on the big screen at Gladstone Cinemas Gold Room.
Have a bite to eat at Gladstone's first microbrewery, Auckland House is situated in the picturesque Gladstone Ports Corporation's East Shores precinct.
For the art lover, pop into the Gladstone Art Gallery and Museum for all the latest exhibitions and events.
Treat yourself to a theatre or show performance at the Gladstone Entertainment Convention Centre.
 Take a tour on the HMAS Gladstone II that lies at anchor in the marina alongside Auckland Inlet.
 Have lunch with a view under the magical fig tree at Spinnaker Park. Trust us, it looks like something out of a fairy-tale book.
 Be entertained and informed as you discover the Gladstone Region on board a tour with Gladstone Region Tours. 

Boyne Island and Tannum Sands
 
Get active on over 15kms of pathway, known as the 'Turtleway Bikeway', which winds along the Tannum Sands coastline.
While you're already there, be sure to appreciate the Boyne Tannum Turtleway Artscape with artwork such as sculptures, mosaic and functional art among other things.
Enjoy a day of sun, sand and salt at Tannum Sands' patrolled surf beach.
Throw down a rug and have a picnic at Canoe Point Beach and Parklands
Visit the local Beach Arts Music (BAM) Markets held on the first Saturday of every month from March to December.

Agnes Water and the Town of 1770
 
Try your skills at kayak surfing with 1770 Liquid Adventures – keep an eye out for dolphins, turtles and other friendly wildlife.
Swap your surfboard for sneakers and enjoy an early morning stroll to the 1770 Headland and Lookout.
Hop aboard the iconic pink amphibious vehicle with 1770 LARC! Tours and visit Queensland's only operating Lighthouse.
Did you know Agnes Water is home to Queensland's most northern surf beach? Why not try your luck at surfing the waves or take a refreshing dip at Main Beach.
If relaxed waterways are more your style, hire a kayak or SUP and explore the pristine area of 1770.
Learn something new about the area with a visit to the local Museum, showcasing Captain Cook memorabilia, aboriginal artefacts and more.
Browse the many food and handicraft stalls at the Discovery Coast Rotary Markets, held on the second and fourth Sunday of each month.
Port Approach
Maritime Information

Anchorage
Multi-commodity port 525 kilometres north of Brisbane.  The port is just south of the Tropic of Capricorn at Latitude 23 49.61'S Longitude 151 34.6'E
Berth
Auckland Point No 1 Berth Starboard side to wharf, 173 m berth length (238 m ship length) depth 11.3 m below LAT
Pilotage
Compulsory Pilotage Area, Embark Pilot near fairway buoy, passage of 33 Km
Channel Depth
15.8 metres below LAT minimum depth in Auckland Channel
Tidal Variation
0.7 to 4.7 metres above LAT
Maximum arrival and departure drafts 11.3m